Integration with existing systems
Next is designed for seamless integration with your existing IT systems making it ideal for:
Ensuring operational continuity and business as usual
Leveraging the capability of existing IT infrastructures to support processes, such as data collection, inspections, maintenance activities, emergency interventions and more
Maximizing existing investments and lowering IT overheads
The following illustration shows how Arcoda Next seamlessly integrates into existing core systems without the need to make significant changes. This has the added benefit of improved information flows between the operators in the field and back-office teams.
Distribution of maps, data and documents
Easily synchronise maps, data, and documentation on the operator's device with the application server database. This combined with focused distribution ensures that operators only receive the data they need to get the job done right first time, every time. Once the data has been downloaded, no further connection with back-office is required!
Updates from the field
Improve network management with timely and accurate updates from the field and encourage better collaboration between field operatives and back-office teams.
Field-users use powerful and intuitive forms to record updates. Now it is easy to report failure warnings, maintenance requests, and mismatches in GIS documents. Also, capture pictures, documents, screenshots signatures, free text, and much more. Once completed, all updates are accurately transferred to back-office teams to inform decision making.
Choose how real-time updates are received, whether via e-mail or on our dedicated web portal. Now back-office teams have easy access to field updates for more responsive decision-making.
Locate and travel to assets
Use Next to rapidly identify assets of interest on the map and then save time travelling to them. Next automatically passes the asset location to Google Maps or other favourite navigator, allowing users to follow step-by-step navigation to asset destination.
Editing the network directly from the field
Next makes it easy to perform rapid network edits by drawing new assets directly on the mobile device. Now field-users can suggest network edits at source and use built-in GPS or manually position elements on the map. These updates can then be quickly sent to back-office for validation.
Network editing with precision
Whether you use built-in GPS, external high precision GPS or laser measuring instruments, you can rely on Next to deliver the accuracy you need to get the job done.
Using Next with external precision GPS units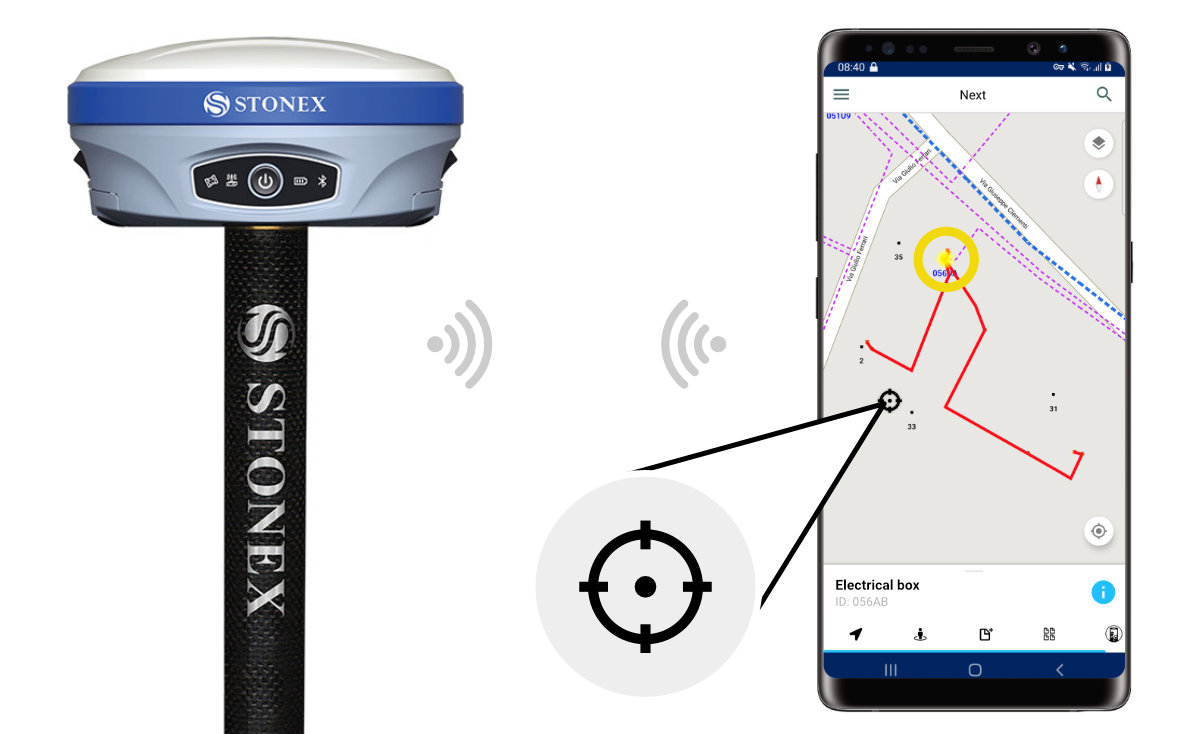 With a simple connection via Bluetooth from mobile device to precision GPS hardware, Next delivers unparalleled accuracy when positioning network objects on a map.
Augmented reality
Next transforms the way you work. Now you can experience all the benefits of augmented reality on your mobile device without additional hardware. Go beyond GIS and leverage technology that allows digital information to be overlaid on real physical environments. Next provides easy and immediate data access to simplify daily tasks, inspections, network object identification, and more.
AR-Onsite
AR-Onsite simplifies inspection operations as it helps users visualise networks in augmented reality. Using the information stored within GIS layers, AR-Onsite virtually positions assets in the user's real-world view. For example, underground pipework will appear directly at ground level. This enables the operator to conduct an immediate evaluation of required interventions.
AR-Inventory
Next's powerful AR-Inventory feature supports meter-room verifications. AR-Inventory is used to capture the presence of meters located in a meter-room and compare with existing records making it an ideal asset auditing tool. This presents a compelling alternative to traditional methods when speeding up company database maintenance.
AR-Inventory is secure and eliminates the pitfalls of publically displaying asset data. Instead this information can be encoded into customised barcodes or QR codes that can be easily framed with a smartphone camera. When a barcode or QR code is read, information is instantaneously superimposed over the meter in augmented reality. This information would include, amongst others, customer data that can be used to generate an automatic report that is sent via Next to back-office for validation.
AR-Identifier
Next uses the AR-Identifier to radically transform the way field-users view network assets. Now real-time information is superimposed on the asset itself rather than sifting through a mobile device to find it. Just looking at an asset will reveal invaluable real-time data even in enclosed environments with no internet connection. This means that users can view status checks, interventions performed, installed power, user information, the possibilities are endless.
AR-Inview
AR-Inview is perfect for assessing the status of assets contained within cabins or other enclosed environments. With Next, looking directly at the asset will reveal superimposed digital labels for each asset in the enclosed space. The user need only to pan their smartphone around the space to view, edit or create new information labels above respective assets. With Next paper documentation is eliminated, intervention times significantly reduced as asset data updates occur in real time. Also, users are better engaged as Next supports learning processes, especially with regards to the identification of a multitude of assets.
Main features of Next
Arcoda Next database is stored on smartphones. Arcoda Next app is fully functioning on the device even without internet connection. A guarantee of service continuity!
Easy to install
Designed to ensure extremely high security levels
LDAP compatibility
Customizable and selectable cartographic backgrounds
Representation of networks: simple links or complete topology
Customizable searches
User profiling, temporary accounts, accounts with restrictions
API to ensure systems interoperability
Integrates Google Street View
Application server and web portal
Designed to work as a standalone as well as in cooperation with other Arcoda products